Office of the Director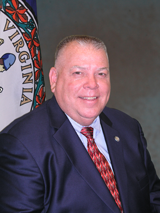 Garth L. Wheeler, Director
Garth Wheeler was appointed by Governor Bob McDonnell in April, 2010, to head the Department of Criminal Justice Services. Prior to his appointment to DCJS, Garth had a distinguished career in law enforcement serving at many levels. Mr. Wheeler began his law enforcement career with the Virginia Beach Police Department in 1976. During his tenure in that Department, he was involved in patrol, training and investigations, including juvenile crimes, rape, robbery and homicide. In 1994, Mr. Wheeler became Director of the Enforcement Division of the Virginia Department of Alcoholic Beverage Control, then, in 1998, he became a Lieutenant with the Virginia State University Police Department. In 2003, Mr. Wheeler accepted the position of Chief of Police and Security Services for the J. Sargeant Reynolds Community College Police Department where he was responsible for the law enforcement services for three campuses in three different jurisdictions. He also served as an Adjunct Faculty member for J. Sargeant Reynolds Community College for six years teaching classes in their criminal justice program. Mr. Wheeler has a B.A. from St. John's University, where he graduated Magna Cum-Laude. He is a long time member and Past President of the Virginia Fraternal Order of Police. He also has served as a member of the Department of Criminal Justice Services Advisory Board for Security Officer Minimum Training Standards for Colleges and Universities. Finally, Mr. Wheeler is a member of the Virginia Association of Chiefs of Police, and is a lifetime member of the Virginia Campus Law Enforcement Administrators Association.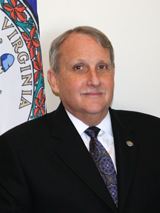 Drew Molloy, Chief Deputy Director
Drew Molloy began his corrections career in 1977, working for the Treatment Alternatives for Safe Communities (TASC) program in Richmond, Virginia. After more than six years at TASC, he took a position with the Virginia Department of Corrections as a State Probation and Parole Officer before moving into administration as the Special Programs Manager for Community Corrections. He held that position for 10 years until he transferred to the Virginia Department of Criminal Justice Services as a Criminal Justice Program Analyst. In 2003, he took a position as Correctional Programs Specialist with the National Institute of Corrections. Mr. Molloy was named the Senior Policy Advisor for Corrections with the Bureau of Justice Assistance (BJA) in 2005, and two years later became the Associate Deputy Director for Justice Systems in the BJA Policy Section, overseeing the corrections, adjudication, tribal and mental health/substance abuse portfolios. In 2010, he was appointed as the Chief Deputy Superintendent of the Virginia Department of Correctional Education, and in 2011, he was named the Chief Deputy Director for the Virginia Department of Criminal Justice Services.
Drew is a past-president of the American Probation and Parole Association, and he currently co-chairs the Association's Leadership Institute. He was named the Virginia Probation and Parole Officer of the Year in 1989. In 2012, he was one of two alumni named a James Madison University Social Work Department, R. Ann Myers Distinguished Social Work Alumni of the Year. In 2012, he also received the Award of Excellence from the Virginia Community Criminal Justice Association. He is a 1975 graduate of James Madison University, where he serves on the Social Work Department's Advisory Group.