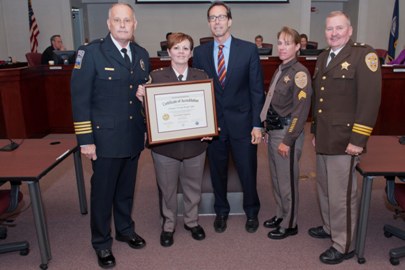 The Arlington County Sheriff's Office received their 5th VLEPSC award at their Board of Supervisors meeting on Tuesday, June 17, 2014.
(Chief Evans, Sheriff Arthur, Arlington County Board Chair Jay Fisette, Sgt. Shannon Williamson and Major Mike Pinson)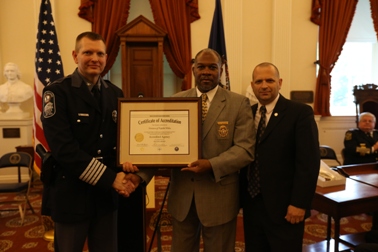 The Division of Capitol Police receives their second accreditation award at a special ceremony on June 11, 2014 in the Old House Chamber at the State Capitol. Pictured L to R: DCP Col. Steve Pike, VLEPSC Commissioner Gabe Morgan, and VLEPSC Program Manager Gary M. Dillon

The Prince George Co. Police Department received their Initial accreditation award on February 11, 2014.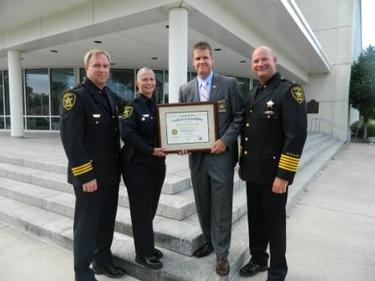 The City of Chesapeake Sheriff's Office received their first reaccreditation award on July 23rd. Pictured left to right are: Major David Hackworth, Deputy Barbara Barrett, Commissioner Brian Roberts (Sheriff of Brunswick County) and Sheriff Jim O'Sullivan.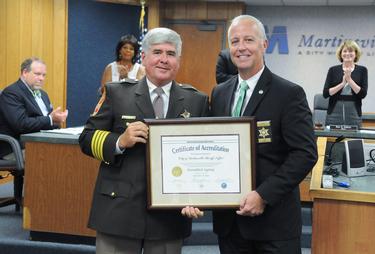 Martinsville Sheriff Steve Draper accepts his agency's first reaccreditation award on July 23rd by VLEPSC Commissioner Eric Atkins (City of Salem Sheriff)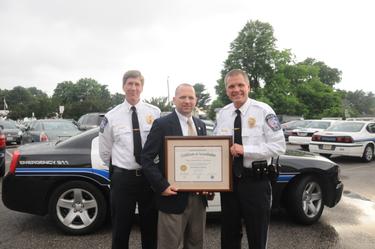 The Hopewell Police Department received their initial accreditation award at the June 18, 2013 City Council meeting. Pictured left to right: Major Robert Skowron, Gary M. Dillon, Program Manager (DCJS), and Chief John Keohane.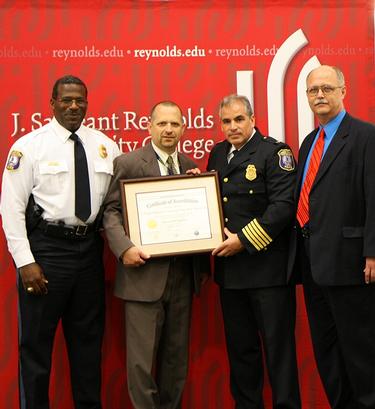 J. Sargeant Reynolds Community College Police Department receives their first accreditation award, making it the first community college police department to be VLEPSC accredited. Pictured left to right: Accreditation Manager Lt. Milton Franklin, VLEPSC Program Manager Gary M. Dillon (DCJS), Chief Paul Ronca and Accreditation Assistant Charles Bishop.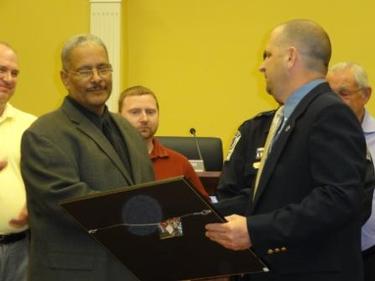 Purcellville Chief Darryl Smith receives his second accreditation award on April 9, 2013 at a meeting of the Town Council.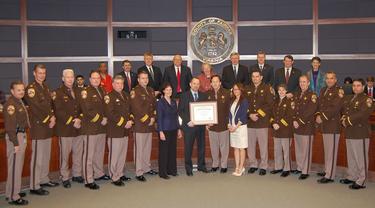 The Fairfax County Sheriff's Office receives their second accreditation award at the March 19, 2013 Fairfax County Board of Supervisors Meeting.