Executive Board - V. Timothy J. Longo, Sr.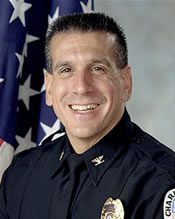 Chief Timothy J. Longo, Sr., began his law enforcement career with the Baltimore Police Department in 1981, as a Police Cadet. In June of 1984, he graduated from the department's Education and Training Division and was awarded the Police Commissioner's Award of Excellence. From 1984 to 1995, Chief Longo served in various capacities throughout the department as a police officer, police sergeant, and police lieutenant. In April of 1993, he assumed command of the department's Special Investigation Section within the Internal Investigation Division. His duties focused on the investigation of criminal wrongdoing within the department's rank. In 1995, he was appointed to the exempt rank of Major and was assigned to the Communication Division as the Director. Tasked with the directive of implementing a call diversion solution to reduce the impact to the city's 911 system, Chief Longo implemented the nation's first three digit non-emergency number, 3-1-1. This alternative response method has since been deployed in cities across America. As a result, his department received the prestigious Weber Seavey Award for innovative law enforcement. From 1996 to 1998, Chief Longo served as Commander of the Southeastern District and in December of 1998, became the Chief of Staff to Police Commissioner Thomas Frazier. In March of 1999, he again received exempt appointment to the rank of Colonel and served as Chief of the Technical Services Bureau, a position that he held until his retirement in March of 2000. Chief Longo served briefly as a Senior Associate with a public sector consulting firm in Rockville, Maryland. In February of 2001, he was selected to serve as the Chief of Police for the City of Charlottesville, Virginia.
Chief Longo is a graduate of Towson University in Baltimore where he served as an Adjunct Professor in the Department of Sociology, Anthropology and Criminal Justice. He is a graduate of the University of Baltimore, School of Law, and holds a Juris Doctorate from that institution. He is a member of the Maryland Bar.
Chief Longo lectures across America in the field of Ethics, Professional Standards and Internal Affairs. He has instructed officers, supervisors and command persons from every major law enforcement and criminal justice agency in Maryland.
---
Return to the Executive Board page.