Juvenile Accountability Block Grant (JABG)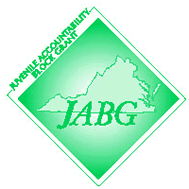 Program Description
Juvenile Accountability Block Grant, referred to as JABG, is a federal block grant program designed to promote greater accountability in the juvenile justice system. This grant allows the States to strengthen their policies, programs, and administrative systems that foster the creation of safe communities. The underlying supposition is that young people, their families, and the juvenile justice system must be accountable for improving the quality of life in every community.
In Virginia, the Governor has designated the Department of Criminal Justice Services as the State's administrator of the JABG Program.
To be eligible for the federal grant funding the Commonwealth of Virginia provided assurances to the federal government that Virginia has legislation, policies, or procedures that would:
Subject juveniles age 15 or over who are alleged to have committed a "serious violent crime" to criminal prosecution by operation of law or prosecutor direct file;
Impose sanctions on juvenile offenders for every delinquent act, including probation violations, and escalate sanctions for each subsequent more serious offense or probation violation;
Establish a system of juvenile delinquency records that subjects juvenile felony offenders who have a prior delinquency adjudication to having their records treated in a manner equivalent to adult records, including submission of such records to the FBI; and
Ensure that State law does not prohibit juvenile court judges from issuing court orders requiring parental supervision of a juvenile offender and from imposing sanctions for violations of such orders.
In addition to these four areas, the State or unit of local government must implement a policy of testing appropriate categories of juveniles within the juvenile justice system for use of controlled substances.
States and units of local government eligible for receiving JABG funding must establish a local planning body, or Advisory Board (formally called the Juvenile Crime Enforcement Coalition). The DCJS has delegated this responsibility to the Virginia Advisory Committee on Juvenile Justice.
JABG in Virginia at the State Level
The federal program has 17 program purpose areas. A Statewide plan for the JABG Program has been developed and funds distributed to localities.
The Virginia Advisory Committee on Juvenile Justice has established the following priorities for grant funding and program plans for 2006-2008:
Reducing recidivism of adjudicated juveniles released from secure confinement.
Addressing criminalization of juveniles with mental health/substance abuse needs.
Disproportionate minority contact with the juvenile justice system.
At-risk children and young juvenile offenders aged 13 and younger.
Providing alternatives to detention.
Reducing system involvement of truants and juveniles with other negative school-related behaviors.
Legal representation of juveniles.
There is a grants subcommittee of this advisory committee. This subcommittee is responsible for the review of applications from State Agencies and localities applying for a grant award under the State, Pooled, and Trust Fund Accounts. The block grant funds are administered directly to relevant localities by formula.
JABG Program Purpose Areas
Developing, implementing, and administering graduated sanctions for juvenile offenders.
Building, expanding, renovating, or operating temporary or permanent juvenile correction, detention, or community corrections facilities. *
Hiring juvenile court judges, probation officers, and court-appointed defenders and special advocates, and funding pre-trial services (including mental health screening and assessment) for juvenile offenders to promote the effective and expeditious administration of the juvenile justice system.
Hiring additional prosecutors, so that more cases involving violent juvenile offenders can be prosecuted and case backlog reduced.
Providing funding to enable prosecutors to address drug, gang, and youth violence problems more effectively and for technology, equipment, and training to assist prosecutors in identifying and expediting the prosecution of violent juvenile offenders.
Establishing and maintaining training programs for law enforcement and other court personnel with respect to preventing and controlling juvenile crime.
Establishing juvenile gun courts for the prosecution and adjudication of juvenile firearms offenders.
Establishing drug court programs for juvenile offenders that provide continuing judicial supervision over juvenile offenders with substance abuse problems and the integrated administration of other sanctions and services for such offenders.
Establishing and maintaining a system of juvenile records designed to promote public safety.
Establishing and maintaining interagency information sharing programs that enable the juvenile and criminal justice system, schools, and social services agencies to make more informed decisions regarding the early identification, control, supervision, and treatment of juveniles who repeatedly commit serious delinquent or criminal acts;
Establishing and maintaining accountability-based programs designed to reduce recidivism among juveniles whoa re referred by law enforcement personnel and agencies.
Establishing and maintaining programs to conduct risk and needs assessments of juvenile offenders that facilitate the effective early intervention and the provision of comprehensive services, including mental health screening and treatment and substance abuse testing and treatment to such offenders.
Establishing and maintaining accountability-based programs that are designed to enhance school safety.
Establishing and maintaining restorative justice programs.
Establishing and maintaining programs to enable juvenile courts and juvenile probation officers to be more effective and efficient in holding juvenile offenders accountable and reducing juvenile recidivism.
Hiring detention and corrections personnel, and establishing and maintaining training programs for such personnel to improve facility practices and programming.
Establishing, improving, and coordinating prerelease and postrelease systems and programs to facilitate the successful reentry of juvenile offenders from state or local custody in the community.
* requires a dollar for dollar match, all other purpose areas require a 10% cash match of total program costs
Local Planning Process
Eligible localities receiving JABG funds in Virginia must comply with the following program requirements:
Establish an Advisory Board (formally called the JCEC)
The Advisory Board is encouraged to develop a Coordinated Enforcement Plan that focuses on:

A Needs Assessment of the Juvenile Justice System;
The most effective use of funds to address:

Reducing Delinquency
Improving the System
Improve Juvenile Accountability
Recommended CEP Components:
To maximize the opportunity that JABG funding provides, it is recommended that localities follow the steps below in developing a comprehensive, results-based strategic local plan.
Roster of the Advisory Board
Profile of Local Juvenile Offender Population
Graduated Sanction Matrix
Review of Existing Local Plans
Gaps in Services
Existing Structures and Initiatives
Funding Resources
Comprehensive Objectives
Use of JABG funds
Award of funds and Administrative Plan
Contact Information
For further information, contact Demian Futterman via email or by telephone at 804.786.0092.