Evans John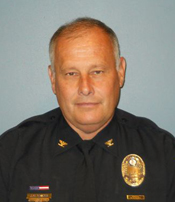 Manassas Park Police Department
Biography:
Chief Evans began his career with the Manassas Park Police Department as an officer in August of 1986 and rose through the ranks to be appointed Chief of Police in 2002. During his rise from Patrol Officer to Chief of Police, he served as shift supervisor, Community Services Lieutenant, Accreditation Manager, Patrol Commander, and Deputy Chief of Police.
The Manassas Park Police Department, under the direction of Chief Evans, has achieved numerous objectives to include the design, construction, and opening of a state of the art police facility that includes an indoor pistol range. In addition, since 2003, the Virginia Law Enforcement Professional Standards Commission has, through the accreditation process, recognized Manassas Park Police Department as an effective, efficient, and well-managed law enforcement agency.
Chief Evans also serves on the Board of Directors for the Northern Virginia Criminal Justice Training Academy and the Community Criminal Justice Services Board for the Thirty-First Judicial District. The Manassas Park Police Department's commitment to excellence is evident in the performance and professionalism of his 43 member staff.