Balderson, C. O.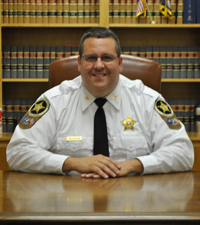 Westmoreland Co. Sheriff's Office
CJSB Appointed Date:
Saturday, January 8, 2022
(Rep. Virginia Sheriffs' Association)
COT Notes:
(VSA - term expires June 30, 2025)
VLEPSC Commission Position:
Biography:
Sheriff C.O. Balderson is a lifelong resident of Westmoreland County. In 1985, he graduated from Washington and Lee High School and in 1989 graduated from Virginia Commonwealth University with a Bachelor of Science in Administration of Justice and Public Safety. In 1992, Balderson joined the Virginia Department of Forestry as a Chief Forest Warden.

In September 1996, he was employed as a trooper with the Virginia State Police until elected as Westmoreland County Sheriff in November 2007. He is currently serving his second term. In August 2010, he graduated from the 28th Session of the Rural Executive Management Institute, University of Arkansas System, Criminal Justice Institute. Balderson serves on the Training Committee with the Rappahannock Regional Criminal Justice Academy and with the Virginia Sheriffs' Institute Board of Directors.

Westmoreland County Sheriff's Office attained accreditation through the Virginia Law Enforcement Professional Standards Commission on May 25, 2006 with reaccreditation on June 03, 2010 and July 23, 2014.