Pike, Anthony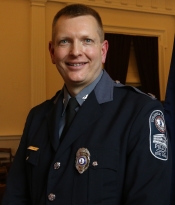 Division of Capitol Police
VLEPSC Commission Position:
Biography:
Colonel Anthony S. Pike was appointed as chief of the Commonwealth of Virginia, Division of Capitol Police, in Richmond on October 10, 2011. As chief, he is responsible for the Division's sworn and support personnel serving the Capitol community of the Legislative, Executive, and Judicial branches of Virginia's government, its employees and visitors.
Prior to his appointment he served as the assistant chief for the Division. Colonel Pike, a native of Wythe County, began his law enforcement career in 1988 with the Virginia Department of Game and Inland Fisheries. Colonel Pike served 4 years in the United States Army and was selected as the Honor Graduate after attending the Basic Noncommissioned Officer Course.
Colonel Pike is a graduate of the 227th session of the FBI National Academy, the 64th session of the FBI Law Enforcement Executive Develop Seminar, and the Commonwealth Management Institute.