Draper Steve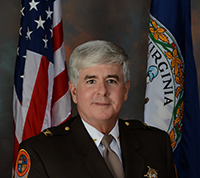 City of Martinsville Sheriff's Office
VLEPSC Commission Position:
Biography:
Steve Draper was born in the City of Martinsville in 1953, and has resided in the city for his entire life. Steve attended Martinsville High School, graduating in 1972 and attended obtained his Associates Degree in Administration of Justice from Patrick Henry Community College. In addition he attended classes at East Tennessee State University. He began working in the Sheriff's Office in 1973 where he worked as a Correctional Officer in the jail, a court bailiff and as a civil process server/transportation officer. He entered private industry in 1980 as a Safety/Security Director of Pannill Knitting Company which was purchased by Sara Lee Corporation. While employed by Sara Lee he continued achieving management/supervision training.
Steve has served the citizens of the City of Martinsville in several capacities. He joined the Martinsville Volunteer Fire Company in 1971 and continued to be active with them until the early 1980's. In addition, he joined the Martinsville Henry County Rescue Squad in 1979 and served the community as an EMS provider for approximately ten years. He served as president of the Martinsville Volunteer Fire Company and Captain of the Martinsville Henry County Rescue Squad.
In 1991, Steve was elected to the Martinsville City Council where he served until being sworn in as Sheriff on January 1, 1994.
He has served as Chairman of the Piedmont Criminal Justice Training Academy, President of the Virginia Sheriff's Association, Governor's appointee to the Governor's Motorcycle Safety Council, Virginia Division of Motor Vehicle's Fraud Commission, Virginia Supreme Court of Virginia's Pandemic Flu Preparedness Commission and currently serves on the Virginia Department of Corrections' Liaison Committee as well as The Virginia Sheriff's representative on the Division of Motor Vehicles Mature Drivers Task Force.